Kalvos & Damian is both historical and new. Get the RSS feed for new content info on
Noizepunk & Das Krooner, interview transcripts, and K&D: In the House! More info.


Chronicle of the NonPop Revolution
---
Composer Profiles
---
Marc Battier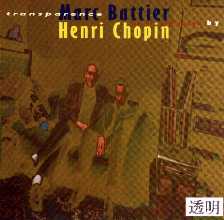 Kalvos's Top 100

Damian's Top 100
---
Listen to this show


---

RealAudio 3 mono version of Landscape in a Dream, 2:35. (RA2 / 14.4 version)


RealAudio 3 stereo version of Landscape in a Dream.


TrueSpeech version of Landscape in a Dream.


MPEG-2 version of Landscape in a Dream.


MP3 streaming version of Miroirs invisibles, 1:52.


MP3 streaming version of Harpe éolienne I, 1:32.


to reach his page.

---
Marc Battier est né en 1947 à Brive-la-Gaillarde. Il suit des cours de pratique instrumentale et de théorie musicale et fait des études d'architecture à l'Ecole des Beaux Arts de Paris, d'informatique musicale à l'Université de Vincennes avec Patrick Greussay et de pratique musicale collective avec Giuseppe Englert. Il obtient une maîtrise de musique, une licence d'informatique et un doctorat de philosophie. Il enseigne la musique électroacoustique à l'Université de Paris VlII depuis 1972. Il donne de nombreux concerts de musique électroacoustique en Europe, aux Etats-Unis et au Japon (musiques sur bande, bandes et instruments, musiques électroniques live). A partir de 1977, il utilise l'ordinateur pour la synthèse des sons : programmes de synthèse directe, Music 4BF, Music V, Music 10, Music I1 (Marseille, INA-GRM, Ircam), synthétiseurs digitaux (synclavier, 4A, 4X). Il fait de nombreuses conférences sur l'informatique musicale et travaille sur le traitement des sons et de la voix par ordinateur à l'lNSERM puis au GRM. En décembre 1979, il entre comme chargé de projet à l'Ircam dans le département Pédagogie.
---