To all visitors: Kalvos & Damian is now a historical site reflecting nonpop
from 1995-2005. No updates have been made since a special program in 2015.


Chronicle of the NonPop Revolution
---
Performer Profiles
---
Michael Boriskin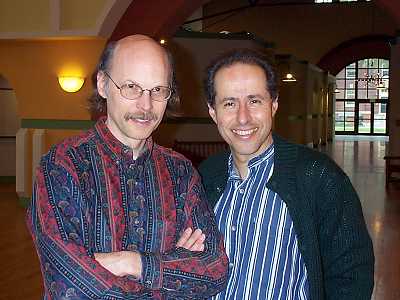 Michael Boriskin (right) with Damian
---
Listen to this show


---
Michael Boriskin

RealAudio G2 comments by the performer. MP3 version

Click here

to reach the composers' home page.
---
Michael Boriskin
Pianist MICHAEL BORISKIN, the Artistic Director of Copland House, has worked closely with virtually every major American composer of the last 25 years (including Carter, Foss, Rorem, Harrison, Perle, Del Tredici, Davidovsky, Kernis, Danielpour, and Liebermann, among many others), and has premiered and recorded (for New World, Harmonia Mundi, BMG, CRI, Koch, Albany, etc.) dozens of works. As Copland House Artistic Director, he has guided the restoration and national emergence of Copland's longtime home near New York City as a unique composer's retreat and creative center for American music. As the American Record Guide noted in its most recent issue, "in a real sense, Michael Boriskin, beyond being an admirable virtuoso who plays the most challenging new works with brio and panache, assures that [Copland's] personal qualities live on at Copland House." He is one the American composer's greatest champions.
DISCOGRAPHY
COPLAND: COMPLETE CHAMBER MUSIC Copland House With Music from Copland House (in production, 2002)
THORNE: RHAPSODIC VARIATIONS NO. 7 Albany Records TROY 451 (2001)
SMALDONE: RHAPSODY FOR PIANO AND ORCHESTRA CRI With Munich Radio Orchestra, Arthur Fagen conductor CD863 (2000)
PERLE: CONCERTO NO. 1 Albany Records With Seattle Symphony, Gerard Schwarz, conductor TROY 292 (1999)
HARRISON: FOUR DANCES for solo piano Koch International 3-7465-2 H1 (1999)
GERSHWIN: COMPLETE WORKS FOR PIANO AND ORCHESTRA BMG/Conifer With Eos Orchestra, Jonathan Sheffer, conductor 75605-57012 (1998)
RAGS TO RICHES: PIANO MUSIC BY SCOTT JOPLIN BMG/Conifer 75605-57028 (1998)
THE EQUAL-TEMPERED LOU HARRISON (solo piano music) Newport Classic NPD 85520 (1995)
PERLE: CONCERTO NO. 2*, SIX ETUDES for solo piano. Harmonia Mundi
DANIELPOUR: METAMORPHOSIS for piano and orchestra* HMU907124 (1994) With Utah Symphony, Joseph Silverstein, conductor
BAZELON: ALLIANCES for cello and piano. Albany Records With Dorothy Lawson, cello TROY 101 (1994)
PIANO MUSIC BY BERNSTEIN, DANIELPOUR, LIEBERMANN, AND SMALDONE New World 80426 (1994)
BRAHMS: VARIATIONS FOR PIANO Music & Arts CD726 (1992)
TCHAIKOVSKY: CONCERTO NO. 2. PROKOFIEV: CONCERTO NO. 1 Newport Classic With Polish National Radio Orchestra, Michael Bartos, conductor NPD 85606 (1991)
PIANO WORKS BY SHAPERO, FINE, RUGGLES, AND MENOTTI New World 80402 (1991)
POULENC: AUBADE. JANACEK: CONCERTINO. Newport Classic
HINDEMITH: KAMMERMUSIK NO. 2 NCD 60087 (1990) With Bronx Arts Ensemble, Michael Bartos, conductor
PIANO WORKS BY DEL TREDICI, PERLE, AND THORNE New World NW380 (1989)
PIANO MUSIC BY FRANCIS POULENC Musical Heritage Society MHS 512169X (1988)
PIANO WORKS BY GEORGE PERLE New World NW-342 (1987)
---
---
To reach the performer:
On-line:dworkin@worldnet.att.net
By telephone:
By fax:
By physical mail:
---