Kalvos & Damian is both historical and new. Get the RSS feed for new content info on
Noizepunk & Das Krooner, interview transcripts, and K&D: In the House! More info.


Chronicle of the NonPop Revolution
---
Composer Profiles
---
Warren Burt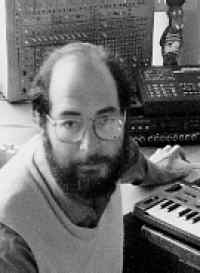 Warren Burt
---
Listen to this show


---
Warren Burt
Click here

for RealAudio
comments by the composer
, 2:06.
RA 14.4
---
Warren Burt
has his own home page. Here it is:
http://www.amcoz.com.au/comp/b/wburt.htm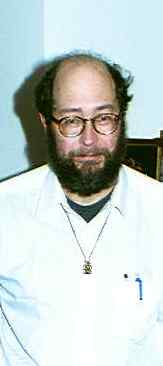 Under interrogation by K&D
Warren Burt was born October 10, 1949 in Baltimore, Maryland. He grew up in Waterford, New York where he studied accordion and flute. He decided on music as a career because it looked like an easy major in University. He went to the State University of New York at Albany, (his composition teachers were William Thomas McKinley and Joel Chadabe), where he became fascinated by problems of composition/organization and decided to get serious about music as long as he could laugh at himself. He went to the University of California at San Diego for graduate work, (his composition teachers were Robert Erickson and Kenneth Gaburo; Pauline Oliveros was also a source of inspiration). While at UCSD he became a fellow in the Center for Music Experiment being in charge of the Analog Electronic Music and Video Synthesis facilities. He also became associated with Serge Tcherepnin at this time and participated in the design and construction of the first and subsequent generations of Serge Modular Music Systems. Also while in San Diego he was a founder member, (with Ronald Al Robboy and David Dunn), of Fatty Acid, an incompetent performance group. In 1975 he left the USA and moved to Australia, taking a job teaching freshman theory and building a hybrid sound-video studio at La Trobe University in Melbourne. He is one of the founding members, (with Ronald Nagorcka) of the Plastic Platypus, (an experimental music performance group), and one of the founders of the Clifton Hill Community Music Center, (a community-music-resource-centre). He has written probably far too many works for instruments, electronics, voice, video, theater, prose, poetry, et cetera. However, he is still laughing.
---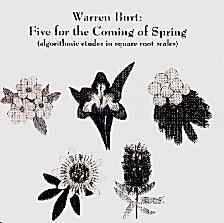 Five for the Coming of Spring
---
To reach the composer:
On-line:
By telephone:
By fax:
By physical mail: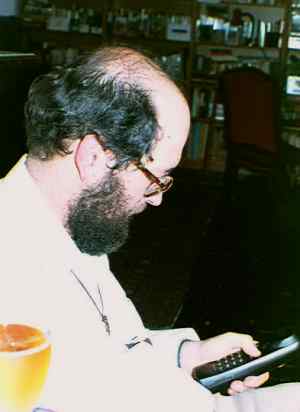 He dials
---