Kalvos & Damian is both historical and new. Get the RSS feed for new content info on
Noizepunk & Das Krooner, interview transcripts, and K&D: In the House! More info.


Chronicle of the NonPop Revolution
---
Composer Profiles
---
Mark Gibbons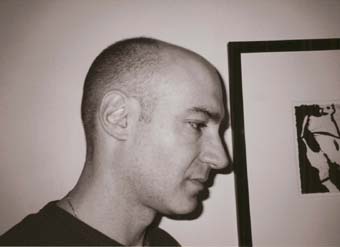 Mark Gibbons
---
Listen to this show


---
Mark Gibbons

for RealAudio comments by the composer, 4:14.

---
Mark Gibbons
Music by Brooklyn based-composer Mark Gibbons is widely performed throughout the United States and Europe in settings such as Alice Tully Hall and the 92nd Street Y in New York, the Posthorn Kerk in Amsterdam, and the annual conference of the Society of Electro Acoustic Music in the US. Recent Commissions have come from the violinist Lydia Forbes through the Tera de Marez Oyens Foundation in The Netherlands, percussionist Danny Tunick, and clarinetist Michael Lowenstern, among others. Awards include the National Orchestral Association Orchestral Reading Fellowship and the Ackerman prize. He also directs 5 rooms company, a production company that operates on an as-needed basis to put on concerts of less-performed and/or recently completed music in the New York area. Mark studied composition with Milton Babbitt, David Diamond, John Lessard, and Daniel Weymouth. He holds a Ph.D. in composition from the State University of New York at Stony Brook, and a M.M. in composition from the Juilliard School. His music is recorded for the SEAMUS and New World labels.
---
Selected Works
how much, how little for violin and percussion. (2001)
the words, but not what they mean in three versions: marimba solo, amplified string quartet, and marimba and amplified string quartet. (1999-2000)
a floating bangle for nine instruments with amplification. (1998)
in two bits for violin. (1997)
Diver II (the next few dents) for tape comprised of computer generated and sampled sounds. (1996)
omitted section of a section omitted for tape comprised of computer generated and sampled sounds. (1996)
what I'm getting at, or the gradual arc for bass clarinet. (1995)
glacial erratic for amplified piano (controlled by the performer). (1993-95)
scrub-reverse for amplified violin, interactive electronics, and tape. (1993)
Diver (the first few dents) for computer generated tape. (1993)
untitled, May 2nd for amplified violin, bass clarinet, interactive electronics, and spoken text. (1992)
Rock-Scissor-Paper for amplified piano and spoken text. (1992)
occurring at some distance for 11 instruments, synthesizer and computer generated tape. (1992)
Landscape Piece . . . for double bass and percussion. (1990)
---
---
To reach the composer:
On-line: markgibbons.mail@gmail.com
By telephone:
By fax:
By physical mail:
---