To all visitors: Kalvos & Damian is now a historical site reflecting nonpop
from 1995-2005. No updates have been made since a special program in 2015.


Chronicle of the NonPop Revolution
---
Composer Profiles
---
Frank J. Oteri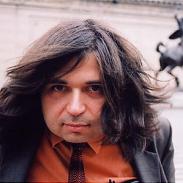 Frank Oteri
---
Listen to this show


---
Frank Oteri

for the New Music Jukebox
---
Frank J. Oteri is the Composer Advocate at the American Music Center and the founding editor of its web magazine NewMusicBox, which has been online since May 1999. An outspoken crusader for new music and the breaking down of barriers between genres, Oteri has written for publications including BBC Music, Chamber Music, Ear Magazine, Symphony, Time Out New York and the Revised New Grove Dictionary of Music and Musicians, has been a frequent radio and pre-concert speaker, and has served as the host for ASCAPs Thru The Walls showcase and his own 21 Century Schizoid Music series at the Sidewalk Caf. Oteris own musical compositionswhich reconcile structural concepts from minimalism and serialism and frequently explore microtonalityspan operas and chamber music, solo keyboard works and original bluegrass/old-timey songs for his band The String Messengers. His music has been programmed in venues ranging from Carnegies Weill Recital Hall and the Theatre Royal in Bath, England to the Knitting Factory and the Bethlehem Musikfest (PA). His 36-tone rock band piece Imagined Overtures has been performed in New York, Seattle, and Los Angeles, and in 2005, Donatas Katkus led the premiere of his "performance oratorio" MACHUNAS, inspired by the life of Fluxus-founder George Maciunas and created in collaboration with Lucio Pozzi, in Vilnius, Lithuania. In February 2008, Oteri was in residence at the Cornish College of the Arts in Seattle. For his work as a composer, journalist, editor, impresario, and advocate, Oteri received the ASCAP Victor Herbert Award in 2007.
---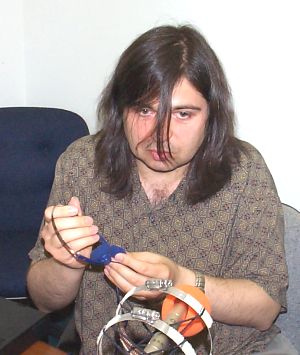 Frank struggles with our headphones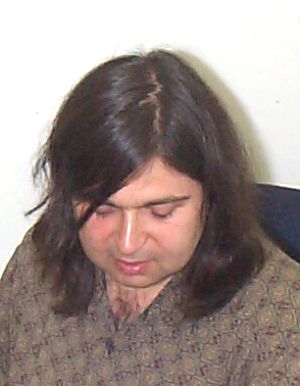 Frank Oteri
---
To reach the composer:
On-line: Contact K&D
By telephone/fax:
By physical mail:
---