Kalvos & Damian is both historical and new. Get the RSS feed for new content info on
Noizepunk & Das Krooner, interview transcripts, and K&D: In the House! More info.


Chronicle of the NonPop Revolution
---
Gwyneth Walker
Music Available from MMB Music
---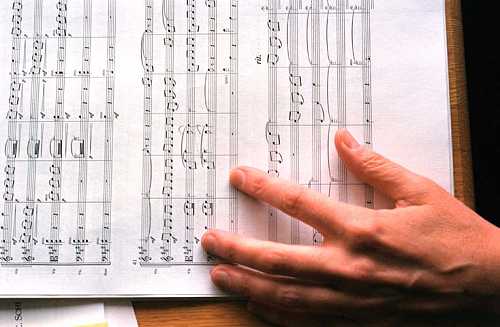 To arrange performances or request perusal material contact:
Marcia Lee Goldberg
MMB Music, Inc.
Contemporary Arts Building
3526 Washington Avenue
Saint Louis, Missouri 63103-1019
Telephone: 1-314-531-9635; 800 543-3771 (USA/Canada)
Fax: 1-314-531-8384
Email: mmbmusic@mmbmusic.com
Website: http://www.mmbmusic.com/

---
Return to Gwyneth Walker page
Return to Gwyneth Walker recordings page
Photographs by Christian Wideawake courtesy The Rutland Herald
---
Available for Sale
About Trains (new) Six Celli.
An Adventure at Grannie's (1992) A fable for Cl/Vc/Storyteller -- Sc/Pts X816203, 34.95
An Adventure at Grannie's (1992) A fable for Vn/Vc/Storyteller -- Sc/Pts X816202, 34.95
Braintree Quintet (1988) WW Quintet -- Sc/Pts X105003, 39.95
Bright Brass (1989) Brass Quintet -- (FS) X025009, 9.95
Bright Brass (1989) Brass Quintet -- Sc/Pts X205001, 24.95
Coming Home from Traveling Songs for String Quartet (1986) -- a movement about baseball, complete with a home run! -- Pts X504022, $14.95
Craftsbury Trio (1990) Piano Trio -- Pno Sc/Pts X503009, 39.95
Craftsbury Trio (1990) Cl/Vc/Pno -- Pno Sc/Pts X632702, 39.95
Fanfare for the Family Farm (1989) Orch -- (FS) X077112, 21.95
Fantasy Etudes (1992) Vn/Pno -- X511015, 19.95
In Memoriam (1980) Solo Cello -- X530008, 5.95
Composed in memory of Richard C. Raymond.

Journeys for Three Celli (1994) -- Sc/Pts X533002, 24.95
Jubilee (1992) Brass Ens/2 Perc -- (FS) X029003, 29.95
Nocturne (1991) Clarinet/String Orch -- Cl/Pno Red. X131010, 29.95
Open the Door (1990) Orch -- (FS) X077111, 37.95
Quartet for Leap Year (2000) -- four movements for string quartet, especially suited to young players
Raise the Roof! (1987) Brass Quintet -- (FS) X025011, 12.95
Raise the Roof! (1987) Brass Quintet -- Sc/Pts X205002, 29.95
Salem Reel (1989) Piano Trio -- Pno Sc/Pts X503005, 14.95
Salem Reel (1989) Clar(in A)/Vc/Pno -- Pno Sc/Pts X632703, 14.95
Seacoasts for Brass Quintet (2000) -- three pieces inspired by the seaside
Shaker Tunes (1994) Brass Quintet -- (FS) X025010, 29.95
Shaker Tunes (1994) Brass Quintet -- Sc/Pts X205003, 39.95
Short Set for String Quartet (1993) -- Sc/Pts X504007, 39.95
Silvermine Suite for Flute and Guitar (1999) Sc/Pts X622503, $24.95
Sonata for Viola and Piano (1982) -- X521004, 19.95
Theme and Variation (1979) Fl/Pno -- X111008, 9.95
Three American Portraits (1988) String Quartet -- Sc/Pts X504004, 39.95
Touch the Sky (1986) Cello/Piano -- X531011, 19.95
Variations on "Amazing Grace" (1985, Rev. 1986) Sym Band -- (FS) X077128, 17.95
---
Available on Rental
About Leaves (1997) (11'15")
Three movements for chamber orchestra inspired by the poetry of Robert Frost
Commissioned by the Vermont Symphony Orchestra
Perfect for Autumn Concerts!
1.0.2.1: Strings

An American Concerto for Violin and Orchestra (1995) (15')
Commissioned by the Walla Walla Symphony Orchestra with Susan Pickett, violin
2.2.2.2: 2.2.1.0: Timp.Perc(2): Strings

Arc in the Sky (4') from North Country Concerto (1995)
Cello Solo, String Orchestra

Bicentennial Suite (1990) (15')
Commissioned by the Vermont Philharmonic Orchestra
2+Picc.2.2.2: 4.3.3.1: Timp.Perc(3): Strings

Bicycle Waltz (1997) (4'10")
Based on "Daisy Bell" ("A Bicycle Built for Two"), with bicycle horns in the Percussion section
Picc, 2.2.2.2: 4.3.3.1: Perc(3): Strings
Chanties and Ballads (1995) (13')
Commissioned by the Millikin-Decatur Symphony Orchestra with Mark Nelson, tuba
Songs of the Sea for Tuba and Orchestra
2(1d Picc).2.2.2: 2.2.1.0: Timp.Perc(2): Strings: Tuba solo

Concert Suite (1995) (10')
Commissioned by Robert Genualdi for the Bridgeport (CT) Youth Orchestra
2.2.2.2: 4.3.3.1: Timp.Perc(3): Strings

A Concerto of Hymns and Spirituals for Trumpet and Orchestra (1997) (16')
Commissioned by the Carson City Community Orchestra with Mark Lord, trumpet
Picc, 2.2.2.2: 4.3.3.1: Perc(3): Strings

Essay for Orchestra (1985) (9')
Winner of the Connecticut Orchestral Commissioning Competition, 1985
2.2.2(1d BCl).2: 4.2.3.0: Timp.Perc(2): Strings

Fanfare for the Family Farm (1989) (4')
A boisterous fanfare featuring a percussion section of farm implements: milk can, pails, and cowbells
Commissioned by the Vermont Arts and Agriculture Association
2.2.2.2: 4.2.3.1: Perc(3): Strings

Fanfare, Interlude and Finale (1980) (11')
Perfect for community or college orchestras
Commissioned by the Washington Festival Orchestra
2(1d Picc).1(+1 opt).1.1: 2.2.0.0: Timp: Strings
(Fanfare may be performed separately)

Jubilee (1992) (10')
Commissioned by the Orleans County (VT) Historical Society for the Vermont Town Brass
3 Trumpets, 4 Horns, 3 Trombones, Tuba, Percussion (2)

The Light of Three Mornings (1987) (18')
Commissioned by the Lake Placid Sinfonietta
Winner of the New England Philharmonic Composition Competition, 1989
1.1.1.1: 1.1.1.0: Perc(1): Strings (minimum 4.2.1.1.1)
(Last movement, Hints and Tappings, may be performed separately)

Match Point (1985) (6')
A musical dramatization of a tennis point for orchestra and conductor with tennis racquet
2.2.2.2: 4.2.3.1: Perc(3): Strings

Match Point (1985) (6')
A musical dramatization of a tennis point for band and conductor with tennis racquet
Commissioned by the Randolph High School Band
2+Picc.1.3+ACl(opt)+BCl(opt).1.AATB(or SATB) Saxes: 4.3 Cornets.3.Euph: Timp.Perc(4-5): String Bass

Nocturne (1991) (17')
Clarinet Solo, String Orchestra

North Country Concerto (1995) (20')
A colorful work based on American folk music
Commissioned by cellist Frances Rowell and the Pennsylvania Sinfonia Orchestra
Cello Solo 2.2.2.2: 2.2.1.0: Perc(1): Strings T

Open the Door (1990) (5')
An overture composed for the tenth anniversary of the Women's Philharmonic Orchestra
2.2.2.2: 4.2.3.1: Perc(3): Strings

Overture 2000 (1998) (4')
To celebrate the new Millennium
Picc,2.2.2.2: 4.3.3.1: Timp.Perc(2): Strings

Sweet Land (of Liberty) (1996) (6')
Jazz Variations on "My Country 'Tis of Thee" for string orchestra

Up-Front Concerto (1993) (10')
Visual as well as aural entertainment featuring congas, rain stick, grapes, and cuica
Commissioned by the Women's Philharmonic Orchestra
Hand-drums Solo 1.1.1.1: 1.1.1.0: Strings

Variations on "Amazing Grace" (1985, rev. 1986) (4')
2+Picc.1.3+BCl.1.AATB(or SATB) Saxes: 2.3 Cornets.3.Euph: Timp.Perc(4): String Bass

A Vermont Bicentennial Suite (1989) (15')
Commissioned by the Randolph High School Band
(movements may be performed separately)


The Governor's Salute
Pastorale
Ethan Allen Rides Again
The Floating Bridge
A Very Bicentennial March

2+Picc.1.3+BCl.1.AATB Saxes: 2.3.3.Euph.1: Timp.Perc(3-4)

---
Gwyneth Walker
Music available from E. C. Schirmer Music Company
Updated February 1998
---
ECS Publishing
138 Ipswich Street
Boston, Massachusetts 02215-3534
Telephone: 1-617-236-1935; 800 777-1919 (USA/Canada)
Fax: 1-617-236-0261
Email:
office@ecspublishing.com
Website:
http://www.ecspublishing.com/
Arsis Audio full catalog of CDs at
http://www.arsisaudio.com/
---
Return to Gwyneth Walker page
---
Choral Music
American Ballads: No. 1 - Lonesome Traveler #4930 (SATB,SATB Soli, Flute) [Secular]
American Ballads: No. 2 - Come All Ye Fair and Tender Ladies #4931 (SSATBB, Flute) [Secular]
American Ballads: No. 3 - Careless Love #4932 (SSAA, SSA Soli) [Secular]
American Ballads: No. 4 - Clementine #4933 (TTBB,TBB Soli, Flute) [Secular]
American Ballads: No. 5 - Shannendoah #4934 (SSAATTBB, Flute) [Secular]
An Hour to Dance -- Musical Interpretations of the Poetry of Virginia Hamilton Adair, in Seven Songs (SATB & Piano) [secular]
Appalachian Carols (SATB, Brass Quintet or Piano) [Sacred]
As A Branch in May #4888 (SATB, Piano) [Secular]
Be Our Light in the Darkness (fromBethesda Evensong) #4480 (SATB, Treble solo, Organ, Percussion) [Sacred]
Bones Be Good! #5029 (SATB, Piano) [Secular]
Cheek to Cheek #4308 (SATB, Piano) [Secular]
Christ-child's Lullaby #4380 (SATB, Solo A, A) [Christmas]
Dreams and Dances: No. 1 - Bones, Be Good! #5029 (SATB, Piano or Strings) [Secular]
Dreams and Dances: No. 2 - Some Dreams Hang in the Air #5030 (SATB, Piano or Strings) [Secular]
Dreams and Dances: No. 3 - Let There be New Flowering #5031 (SATB, Piano or Strings) [Secular]
Every Night (When the Sun Goes Down) #5135 (SATB) [Sacred or Secular]
For Ever and Ever#4316 (SATB, S Solo) [Sacred]
Give Over Thine Own Willing #5252 (SATB) [Sacred]
God Speaks to Each of Us (SATB, Organ) [Sacred]
Golden Harp (SATB, String Quartet or Piano) [Sacred]
Hebrides Lullaby #5263 (SSA) [Sacred]
How Can I Keep from Singing? #5100 (SATB, Piano) [Sacred]
How Can I Keep From Singing? #5655 (SSA, Piano) [Sacred]
i carry your heart (#2 of Two Songs) #5067 (SATB, Piano) [Secular]
i thank you God #5331 (SSA, Piano) [Sacred]
I Will Be Earth #4887 (SSATB, Piano) [Secular]
Lord's Prayer, The (from Bethesda Evensong) #4479 (SSA, Organ) [Sacred]
Love -- by the Water: No. 1 - Blow the Candles Out #5249 (SATB, Piano) [Secular]
Love -- by the Water: No. 2 - Fare Thee Well #5250 (SATB, Piano) [Secular]
Love -- by the Water: No. 3 - Banks of the Ohio #5251 (SATB, Piano) [Secular]
Magnificat (from Bethesda Evensong) #4477 (SSAA Trebles, Solo Mezzo-soprano, Organ) [Sacred]
Motherless Child #5131 (SATB) [Sacred]
My Girls (SSA) [Secular]
My Love Walks in Velvet #4312 (SATB) [Secular]
My Love Walks in Velvet (SSA) [Secular]
Now I Become Myself #5409 (SSA, Piano) [Secular]
O Gracious Light (from Bethesda Evensong) #4476 (SSA Trebles, Organ)
Peace Like a River #4485 (SATB) [Sacred]
Psalm 23 #5374 (SATB, Organ) [Sacred]
Right to Vote (SATB) [Secular]
River Songs for Chorus and Chamber Orchestra (fl, ob, 2 cl, bsn, hn, tpt, tbn, perc & strings) (Piano Reduction available):
No. 1 -- Deep River #5383 No. 2 -- A Mule Named Sal #5384 No. 3 -- The Water is Wide #5385
spring (#1 of Two Songs) #5045 (SATB, Piano) [Secular]
Silver Apples of the Moon, The #4313 (SSA, Piano) [Secular]
Songs for Women's Voices: No. 1 - Women Should Be Pedestals #5020 (SSA, Piano) [Secular]
Songs for Women's Voices: No. 2 - Mornings Innocent #5021 (SSAA, Piano) [Secular]
Songs for Women's Voices: No. 3 - The Name is Changeless #5022 (SSA) [Secular]
Songs for Women's Voices: No. 4 - Love is a Rain of Diamonds #5023 (SSA, Piano) [Secular]
Songs for Women's Voices: No. 5 - In Autumn #5024 (SSA, S & A soli, Piano) [Secular]
Songs for Women's Voices: No. 6 - I Will Be Earth #5025 (SSA, Piano) [Secular]
Sounding Joy #4318 (SATB) [Sacred]
St. John's Trilogy #4699 (Congregation, Optional SATB Chorus, Organ) [Sacred]
Sweet Molly and Friends (SATB, Tuba) [Secular]
This Is the Day the Lord Hath Made #4314 (SATB, SB Soli, Piano) [Easter]
This Train #5189 (SATB) [Sacred or Secular]
Troubled Sweet of Her, The #4307 (SATB, Optional Solo SATB, Male Speaker) [Secular]
White Horses #4548 (SATB, Piano) [Secular]
With Thee That I May Live (SATB, Children's Choir, Organ, Brass Quartet & Timpani) [Easter]
Writings on the Wall (SATB, Piano) [Secular]
Vocal Music
As a Branch in May #4309 (Medium Voice, Guitar)
Mornings Innocent (High Voice, Piano)
My Love Walks in Velvet #4515 (Medium/High Voice, Piano)
My Love Walks in Velvet #4516 (Medium/Low Voice, Piano)
No Ordinary Woman! (Soprano, Piano) [Secular]
No Ordinary Woman! (Mezzo Soprano, Piano) [Secular]
Though Love Be a Day #4319 (High Voice, Piano)
Organ Music
In Celebration #4481 [Organ]
Variations on Amazing Grace #4336 [Organ]
Piano Music
April Rag and Fantasy #4333 [Piano Solo]
Cantos for the End of Summer #4335 [Piano]
Rhythms from the North Country #4331 [Piano Solo]
---