---
Composer Profiles
---
Batya Weinbaum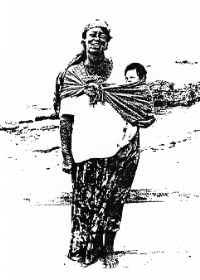 Batya Weinbaum
---
Batya Weinbaum
Click here

for an essay, "Making Music with Matriarchal Consciousness"
Click here

for RealAudio comments by the composer, [not yet available].
Click here

for RealAudio 3 stereo version of The Earth She is Rocking Us, 2:15. (RA3/mono version)
Click here

for Full-size publicity photo of the composer (right-click and save as... to download). Credit to Mitch Moraski
---
The following comments originally appeared in Consorting, newsletter of the Consortium of Vermont Composers
---
Batya Weinbaum has a post office box in Worcester, but actually a studio in Richmond over the Daily Bread Cafe, and another one in Massachusetts (where she is writing this). She is probably in the Middle East as your read this, researching "Isis Summons: Making Music with Matriarchal Consciousness", which is a feminist reinterpretation of music history going back to Paleolithic times. If any contemporary (that's you) composers and/or musicians would like to be interviewed on making music with matriarchal consciousness, she'll plug your work in the book. Or if any women composers want to submit scores or be interviewed on how their music was fed by/feeds into women's spirituality, drop her a line at Box 101, Worcester 05682, and she'll get back to you. Sorry, guys.
---
I studied classical piano as a kid and jazz later, and always painted and wrote poetry, never could do the splits well enough to make cheerleader, and I have a dog Black Eel who has inspired music in me by dancing and celebrating her love for the physical universe, especially earth, waterfalls and trees. She is not too keen on cars and pavement. She dances, and my piano playing often illustrates her movement. I even got her on stage once at SUNY Buffalo ... where I went to graduate school in American Studies and worked with composer Willy Ortiz, ethnomusicologist Charley Keill, poet Sharon Leder, painter Anna Marie Hidalgo, and Larry Chisolm for eastern classics.
Through all these fantastic people I put together a method to create and recall (to perform) music based on reciting (silently like a mantra) inner lyrics, and through making and looking at paintings. It had something to do with "primitive" (so-called) ritual and synaesthesia. My attempt was to create a form of music that was not alienating to performers. I have conducted workshops in various settings where people share visualizations they get when I play, and then use visualizations of natural spots to play or conduct their own music. Everybody usually has "a good musical experience". (Drop me a line if you want to host me to do one in your neighborhood.) Unfortunately, outside of Vermont I often get criticized by people in music schools and departments for not having musical "language". So if anyone wants to read this ever-growing manuscript to try to critique or improve it, drop me a line too.
I have organized my own concerts which are one-third lecture, one-third performance, and one-third audience participation in Oregon and Massachusetts. I have also traveled with a piano in truck, to compose directly from nature, and then to play music from nature at army bases or around city halls or at laundromats or supermarkets. I have attended women composer/conductor conferences and meetings in New York and Oregon, and talked at many women's music festivals. I have taught from time to time in colleges and universities. I tend to have a lot of theories about how music can change the world, and like to discover the sound of one instrument rather than impose unnatural tunings from without. I have published some of my musical theories in Heresies.
---
I was famous around Plainfield for a while for playing my harp on a rock when I lived in a cabin by a pond. Now the cabin is gone (the land was sold) and I do more text-sound performances (the avant-garde way of saying I read poetry) because it's easier. I have two recordings out (which you can order through the same post office box -- $10 each), one the music of Hawaii, and the second, healing sounds of the northeast -- piano and harp. Each was recorded in a studio.
I had the opportunity to work with Pauline Oliveros once (who has an album out with a picture of herself riding an elephant) and I really respect her work. She also studied non-Western musics to compose. And I also worked with Kay Gardner and her "music and healing" reading list, who only listened to music by women for seven years though now she is composing for males and females and conducting regular orchestras. (Her recordings are available through Lady Slipper.)
I have published two books, 68 articles, essays, reviews, pieces of fiction and poetry in places such as Seditious Delicious, Thought Crime, Key West Review, Feminist Review, National Women's Studies Association Journal, The World, Off Our Backs, Counterpoint and in collections by Monthly Review, Schocken, Crossing, and 4 Walls Eight Windows Press. I have many current and ex-lovers and friends in Vermont, and family in Connecticut, New York and Indiana. My truest love is surrealistic fiction. I am currently writing some about Israel.
---
I am not intimidating and don't bite, although my dog barks when she is scared of somebody. I guess you could classify me as a Bohemian. I also drive a tractor on Kate Millett's art colony for women in Poughkeepsie, New York, and do tarot readings. Let's get together and make music.
Love,
Batya
---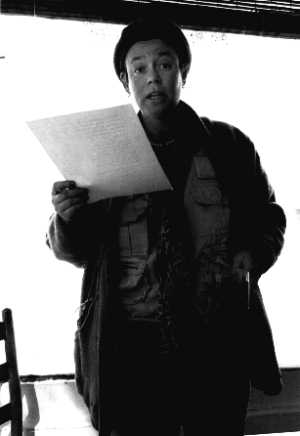 Representative musical compositions:
[Composition list not yet available.]
---